Overview
Buttonhole Properties is a function for changing the properties of buttonholes: Align & Distribute / Width / Angle / Buttonhole Position / Color / Show in 3D View.
Buttonhole properties are applied to each buttonhole object created on the surface, changing the properties of one buttonhole will not affect other buttonholes.
Meanwhile, button material properties are reflected on all buttonholes of the same type.
Location
Buttonhole > UI Panel > Properties > Buttonhole Materials
Operation Method
Select the buttonhole in 2D and 3D views in Button Selection Mode.

Assign and edit the buttonhole.

The applied buttonhole will appear in 2D and 3D views.

※Note: Buttonhole texture in 2D view is shown with texture activated via the 2D menu.
Components
A
lign

& Distribute

This is a function for assigning two or more buttonholes selected depending on the applied choices.
Align Left / Align Center / Align Right / Distribute Horizontally Align Top / Align Middle / Align Bottom / Distribute Vertically.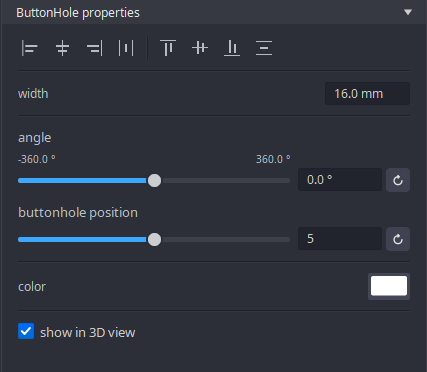 Width
This function is for adjusting the width of buttonholes. (Default 16.0 mm)
Angle
This function is for rotating the angle of buttonholes.
Buttonhole Position
This function is for setting the location where buttonholes will be locked. You can set button connections and check them using the green dot.
Color Tint
Basic Color
This is the default color palette.

Pick Screen Color
After clicking on the corresponding function, select a color on the screen with the cross icon to make color chips. This function can be operated outside of the z-weave screen as well.

Custom Colors
This function can be used to save colors.

Select a slot to save a custom color.
Select the color.
Click Add to Custom Colors.
You can check the saved color in the selected slot.
Color
You can pick a color directly or enter the hue/saturation/value (HSV), red/green/blue (RGB), or HTML values manually.
Show in 3D View
When the checkbox is ticked, the selected buttonhole will appear in 3D view. When the checkbox is empty, it will not be shown in 3D view which will affect the simulation.